History of Mooroopna Primary School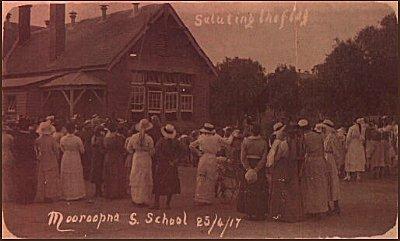 The first school in Mooroopna was a private school established by William Crimp in 1873. The school operated for three days a week in a log hut with a bark roof. Pupils were charged sixpence a day for lessons and an average of fifteen students attended. With the population growing as a result of increased settlement in the area, a number of public meetings were held in late 1873 with a view to establishing a State School in the town.
Two land holders, William Archer and W. Morrell, offered to donate land. After lengthy and often heated discussion, the Board of Education selected the site offered by Archer as Morrell's site was near a new hotel that many of the prospective students would need to pass on their way to and from school. This is the current site of Mooroopna Primary School and the contribution of Archer and Morrell has been commemorated by naming two of the school's sports houses after them.
The first building on the site was a one-roomed building with the roof, walls and floor made from hardwood planks. William Crimp was appointed headmaster and Mooroopna's first State School opened on 20th. July, 1874. The building was found to be totally inadequate for use as a school. Within a year of opening there were protests from parents about the crowded conditions and especially the poor construction of the building – gaps had opened in the hardwood planking resulting in a leaky roof and draughty walls and floor.
In 1876 tenders were called for the construction of a new school. A tender for 372 pounds, 14 shillings ($745.40) to construct a brick building with a slate roof was accepted. The old building was sold for 3 pounds ($6) and removed. The new building, containing a lobby and three large classrooms was completed in March, 1877 and is still in use today as the administration and staff facilities. The exterior has changed little but there have been many internal renovations over the years.
This building met the town's needs for more than fifty years. Another brick classroom was added in 1929. A few years later, St. Mary's registered school opened and the enrolment at Mooroopna P.S. dropped from a high of 211 to around 175 students in 1939.
After the war, the town's population increased rapidly and timber classrooms were added in 1948 (1), 1954 (2 + staffroom), 1957 (2 + storeroom), 1964 (2 + storeroom). A canteen was built in 1968, and a library in 1970. Another wing of 4 classrooms and other facilities was added in 1972.
The first of two major fires occurred in 1978. The south west wing of the school – 3 classrooms and other facilities – was destroyed by a deliberately lit fire. Portable classrooms were brought in to replace the lost rooms. A year later a second fire destroyed the north west wing which housed the library, three classrooms and staffroom. Again, portable facilities were provided. Both fires burned up to the original building – the solid brick construction of which assisted in containing the spread of the flames – but left it unscathed apart from some smoke damage.
The enrolment at the school was around 600 pupils at this time and a second state school for Mooroopna was already on the drawing board. Public meetings were held to determine the future of Mooroopna's primary education and the resulting decision was to maintain the original school and to build a second school in the developing northern area of the town. Mooroopna Park Primary School opened in 1980. The new school with its own staff and principal shared the Mooroopna Primary school site until August 1980 when its own buildings were ready for occupation.
Since 1980 Mooroopna P.S. has undergone a number of changes. A new library constructed on the site of the destroyed north west wing was opened in August, 1982. Four modular buildings, each containing 2 classrooms and storage/withdrawal/wet area were sited and linked to each other and the remaining existing buildings by covered walkways. Internal renovations of the original brick building included an Art/ Craft room, staffroom and increased office space and resource facilities.
In 1984 the adjoining Anglican Church property was purchased. The church building was dismantled and removed and the church hall and meeting rooms became the school hall, computer/music room and canteen.
Additional classrooms were built in 1997 and opened by the Premier, Mr. Kennett, in early 1998. A third fire in March, 2001 destroyed seven classrooms. An extensive rebuilding and modernisation program was completed in October 2003. Nine new classrooms and an art room were provided. The existing students' toilet block was demolished and new toilets built. The buildings were occupied for the last few weeks of 2003 and officially opened in February 2004.
In 2008 Mooroopna Primary School has an enrolment of around 325 students. In addition to modern classrooms, MPS also has rooms for art, library and Learning Technology. Two adventure playgrounds were re-developed with new equipment chosen in consultation with the students replacing many of the older facilities. The school oval, the asphalt basketball/netball courts and other grassed and sealed open areas provide plenty of space for recreation and outdoor education activities. Additional landscaping, shelter construction and grounds beautification have also been undertaken in recent years.
In 2010, as part of the Building the Education Revolution, Mooroopna Primary School built a large, modern, open learning area. This consists of 6 classrooms, a large central open learning space, meeting rooms, toilets and office facilities. A range of learning styles are catered for including co-teaching, small and large groups and individual support. After the construction of this building, the school was able to remove all portable classrooms.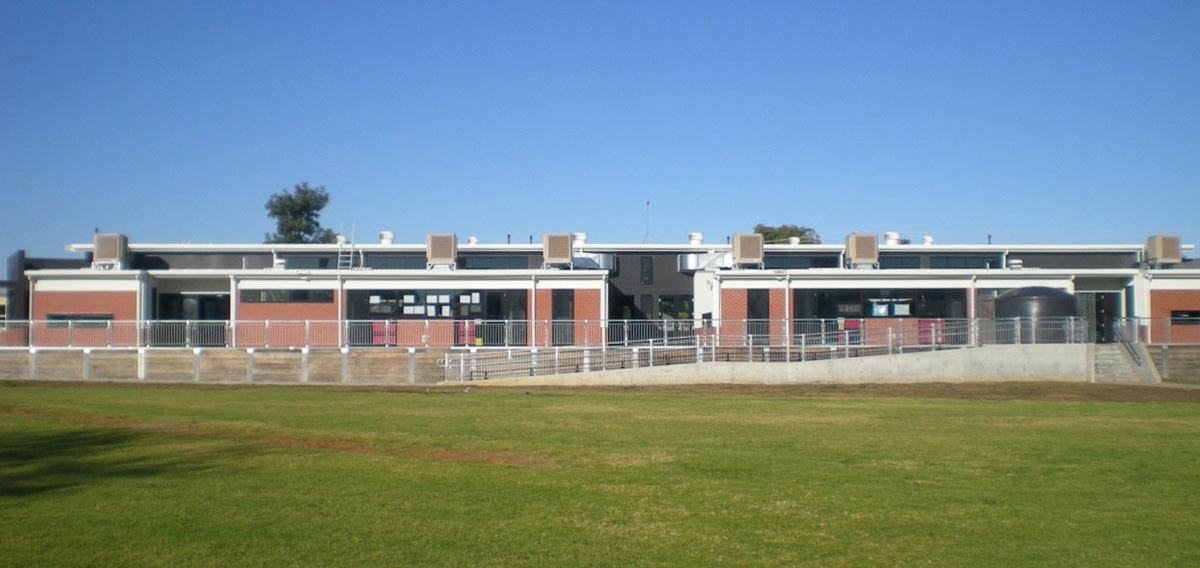 B Block Building. Constructed in 2010 as part of the Building the Education Revolution.